6th Annual ERX Off-Road National
COVID-19 Update
Though we know we're living in uncertain times, the Championship Off-Road and ERX teams have been working tirelessly behind-the-scenes to ensure this event is one of our best!
If you haven't experienced camping with us, now is the time! We have 500 spacious acres and you'll be in close proximity to the action all weekend long!  Click here to get your camping pass for just $60!
The entire ERX team is counting down the days until the park is once again filled with race fans and the roar of off-road racing.
Stay safe & healthy – see you soon!
EXPERIENCE THE THRILLS OF HIGH OCTANE OFF-ROAD RACING
The ERX Off-Road National isn't just a race, it's a weekend experience. Two action-packed days of high-flying, off-road racing returns July 9-10th. This is a family-friendly event with activities to fit everyone's needs. Our 2-day race is complete with a Kidz Zone, open pits and more!
Come experience comfortable and fantastic visibility of the entire track with its natural amphitheater.
PURCHASE 2021 TICKETS AND CAMPING PASSES HERE!

SPECTATOR ADMISSION & CAMPING
New This Race: Military & first responders get in FREE!
EVENT FORMAT
Stay tuned for daily events & times coming 
FRIDAY
Camping gates & parking open:Coming Soon!
Driver's Meeting: Coming Soon!
SATURDAY
Day 1
Opening Ceremonies: Official Time Coming Soon!
SUNDAY
Day 2
Opening Ceremonies: Official Time Coming Soon!

WEEKEND ACTIVITIES
Aside from the best outdoor racing you'll ever witness, the park will be bustling with activities all weekend long. From scenic camping and action-packed racing, ERX is the place to be August 15-16!
Vendor Area
The top brands in the outdoors industry are coming to ERX during the Off-Road National! Visit our expo space to see the latest trends, score a hot deal and more! 
Beer Lounge

Sit back, relax, and enjoy some racing. While you are hanging out on spectator hill stop by and check out our beer lounge. We will provide plenty of space for you to kick back and put your feet up during this Off-Road weekend, and did we mention there will be yard games too?
Kidz Zone

We have plenty of fun for the whole family! 
Open Pits! Go behind the scenes and meet the sport's top drivers

and more!

ADULT ADMISSION
Everyone 13 years of age and older needs an Adult Admission ticket.
Regular Pricing 
Daily Admission | $25

Weekend Admission | $45
New this event: Military and first responders get in FREE!
KIDS ADMISSION
Kids ages 6-12 receive a Kids Admission ticket for just $10; kids 5 & under get in FREE
Weekend Admission (6-12) | $10
Weekend Admission (5 and under) | FREE
CORPORATE TICKETS 
Entertain your employees and customers with the roar of 900-HP engines It will beat a golf outing any day! Discounted ticket packages are available for groups of 10 or more. For tickets and more information contact us.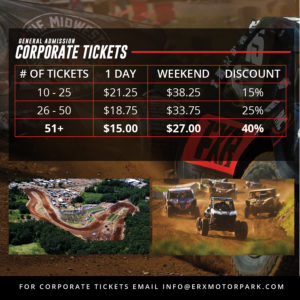 CAMPING
Camping Space Dimensions:
 

30'x40′
Price:
 

$60/weekend
Load-in Times: Coming Soon!
Price is determined per camping space vehicle. A camping pass is valid from Thursday through Sunday morning.
No water, electric or sewer hookups available. An outside company will pump septic tanks and fill water tanks; we suggest coming in with water tanks already full. There will be security patrols in every lot and all lots will be open for the whole event, including Saturday night.
THE FIELD & THE RIDGE
This lot is for spectator campers. Free shuttle to admission gate provided or approximate 10-minute walk to track.
VIP CAMPING
This lot is reserved for track sponsors and VIPs only.

BLEACHERS & SEATING
Bleacher seating is free and available on a first come, first serve basis

Spectators are encouraged to bring lawn chairs and blankets to take advantage of free seating on the grassy areas surrounding the track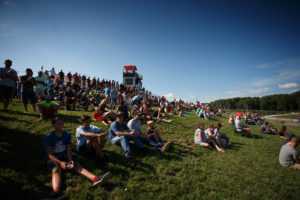 PARKING & SHUTTLES
SPECTATOR PARKING
We will be charging a $5/day parking fee during this event. Upon arrival, spectators are directed to Spectator Lot 1 or 2.
RACE TEAMS:
Only one passenger vehicle is allowed in the pit area. All other vehicles will need to park in the spectator parking lots. No exceptions.
COMPLIMENTARY SHUTTLE
We offer a complimentary shuttle to the admissions gate from all parking lots and camping.
STAFF & VOLUNTEER PARKING
Upon arrival, staff and volunteers will be directed to the VIP parking lot. Credentials are required. Vehicles will be towed at the owner's expense.
HANDICAP PARKING & SHUTTLE
Handicap parking is available in the VIP lot. A complimentary shuttle is provided to the admissions gate, track and back to the parking lot. ADA seating is accessible at the top of spectator hill.

TRAVEL & ACCOMMODATIONS
Follow US Hwy 169 north. ERX Motor Park will be on your right-hand side just 2 miles north of Elk River.
Form the North
 Follow US Hwy 169 south. ERX Motor Park is less than 10 miles south of Zimmerman, MN. Drivers and spectators will not be able to enter ERX from Hwy 169 southbound. Please continue to the first exit you see (County Road 33). Turn left and enter US Hwy 169 once again heading North. The entrance to ERX Motor Park will be on your right-hand side.

FAQs
Are pit vehicles allowed?
YES! A few rules…
No mowing over of spectators. Vehicles will be required to park outside spectating areas in designated parking spots
Absolutely no ATVs, UTVs, motorcycles, scooters or golf carts are allowed in any spectator areas
You can operate these vehicles in our camping areas responsibly as deemed by ERX staff
Must be 16+ to operate
You must sign a waiver when you enter the facility
These rules will be strictly enforced
Can I bring water or a cooler in?
No outside food or beverage is allowed at ERX Motor Park
Can I bring an EZ Up?
Due to blocking visibility for others, we will not allow EZ Ups to be placed. There are multiple shaded areas, such as:
Beverage Tent
Sponsor tent areas for public use
Shaded grassy area, typically called "people of the trees"
Can I still camp?
Yes! Camping can be purchased at the gate or online 
Spectator camping will start at 2pm on Thursday and run until check out on Sunday
My code doesn't work.
Please reach out to us at info@erxmotorpark.com.
Is there a fee to park at ERX?
Yes, $5/day per car.
Can I buy tickets online?
Yes! Click here to purchase.
Will shuttles be available?
Yes, shuttles are provided in all parking areas at no charge
Will there be any entertainment?
Due to COVID-19, we had to cancel most of our entertainment for the year. However, music will be playing both nights down at The Chalet with a bar open as well!
Is there a schedule for the weekend?
Coming soon from Championship Off-Road!
Will non-potable water be available?
Yes, non-potable water is available onsite in the pro pit area.
Where is spectator seating?
Seating is free, we encourage you to bring your own chair or blanket; bleacher seating is limited.
Where is dumping available for campers?
Call the number listed on port-a-potties, they will schedule time to come out (for a fee).
Are animals allowed?
Yes, but no animals are allowed in spectator areas.  They must remain in the pits or in camping areas and must be leashed at all times.
Can I get a ticket at the gate?     
Yes! Weekend $45, Daily is $25, Kids (6-12) $10 for the weekend, 5 & under FREE 
INTERACTIVE FACILITY GUIDE
Hover over each icon for more info on our parking, shuttles, camping, concessions and other attractions.
PLEASE, NO OUTSIDE FOOD OR BEVERAGE
Only empty coolers/coolers filled with ice are allowed in spectator areas. Outside food and beverage is only permitted in camping areas. Enjoy a wide variety of food and beverage from our great vendors.
*No dogs allowed in spectator areas*